Guyana Goldstrike Inc. (TSX.V:GYA, OTC:GYNAF, FSE:1ZT) is a Canadian gold exploration and development company, with a focus on near-term production and advanced exploration. The Company's operations are in Guyana, South America, where its asset, the Marudi Gold Project is under development. The project is 13,500 acres in size, contains a mineral resource estimate, a permitted mining license and remains 95% unexplored. We learned from Peter D. Berdusco, President and CEO of Guyana Goldstrike, that their primary objective is to grow the resource to over a million ounces to start to incur interest from mid-tiers or larger players or to make the decision to go into production. Near term plans include extensive exploration drilling during the next 12 month with weekly news flow. Mr. Berdusco is bullish on gold and expects it to break through the 200-day moving average. We learned from Mr. Berdusco, that they were the benefactors of a $3.2 million equity investment from the Zijin Global and Zijin Midas Investment Funds, which are part of the Zijin Mining Group, the largest gold-producing company in China.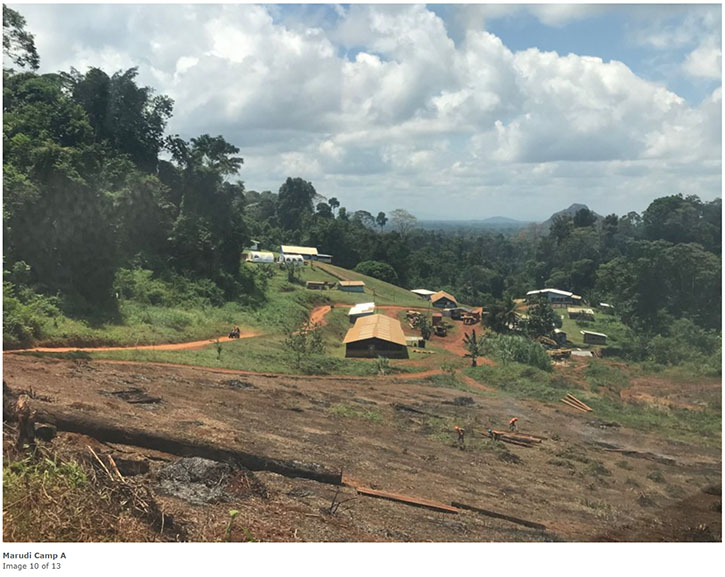 Dr. Allen Alper: This is Dr. Allen Alper, Editor-in-Chief of Metals News, interviewing Peter D. Berdusco, who is President and CEO of Guyana Goldstrike. Could you give our readers/investors an overview of your Company, your focus and current activities?
Peter Berdusco: Thank you, Dr. Alper. Guyana Goldstrike is a publicly traded company on the Toronto Venture Exchange, and trades under the symbol GYA. The project that we're focused on is in Guyana, South America. Our flagship project is the Marudi gold project, and which we acquired about a year and a half ago. Marudi came with a historic resource estimate, with exploration upside or blue sky, if you will, and a mining license, those were the three main elements of the deal that we found that were very attractive to us and encouraged us to move forward on the transaction with the project.
Dr. Allen Alper: That sounds excellent. Could you tell me a little bit more about the project and why it's significant?
Peter Berdusco: Yes, so again, Marudi is located in Guyana, South America. Guyana is a relatively an overlooked country for exploration and specifically gold exploration. There's one company of note, Guyana Goldfields that has been there a number of years. They went into production several years ago, and they're having some good success with their Aurora gold project, and they're a 2-300 million market cap company, so definitely a company of size. Then beyond that, it's all more junior type of companies like Guyana Goldstrike involved in various stages of mining in Guyana.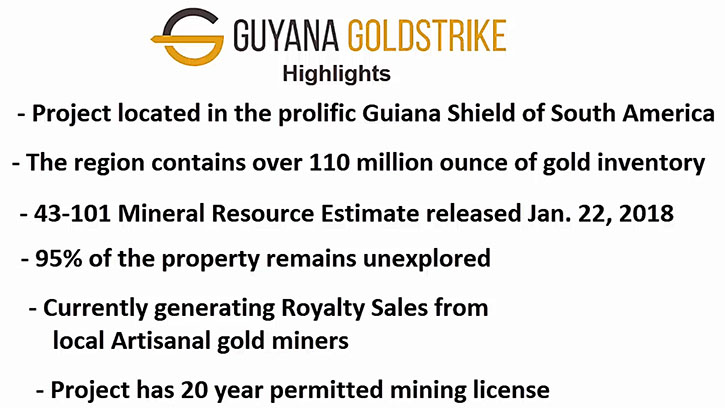 The majority of the companies are along the north or along the coast. We're standalone in the south, and we believe that this is a potential advantage for us where we feel we're identifying a second gold belt that, hopefully, is as prominent as the first gold belt along the North Coast.
Dr. Allen Alper: Yes
Peter Berdusco: So, beyond the Marudi project, we feel that there's an opportunity to maybe expand to a portfolio of projects and properties in the South region. So it becomes for us a potential for a strong area play as well. As I mentioned, what we like about Guyana is: British common law, democratically elected, English-speaking, 27.5 corporate tax rate, which is fine. It's within the whole Guiana Shield, which is the geological setting, and the Guiana shield has over 100 million ounces of gold in inventory.
The shield has geological continuity with the Birimian Belt in West Africa. So this provides you with the good grade and a richness in terms of the potential for discovery and developing a resource into a deposit. So all of these factors were very attractive for us, made a lot of sense, and gave us the confidence to press forward and consummate a deal with the vendors, and that was about a year and a half ago.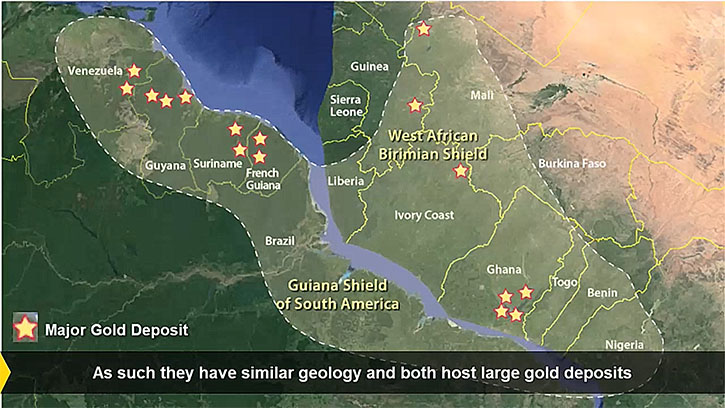 Dr. Allen Alper: That sounds good. I noticed you recently announced some results from trenching that you have high-grade gold. Could you talk a little bit about that?
Peter Berdusco: Yes, so the ability for us to trench was we were the benefactors of an equity investment from the Zijin Mining Group, largest gold-producing company in China. $18 billion dollar company trades on the Shanghai and Hong Kong exchanges. They wanted to have some exposure to South America. In particular, Guyana, and we courted them, and they really liked the project, and they liked all the points that I covered just a minute ago, the upside on the property and what have you. Their interest, obviously, is just the hard rock exploration because we actually have a hardrock gold in saprolite and alluvial gold on the property. But their focus is the hard rock.
They came in with a $3.2 million investment earlier this year, around March 2018. This investment was for further exploration of our hardrock resources. We have a historical resource that we brought into a compliant resource of just under 350,000 ounces of indicated and inferred, and that's about roughly 1.6, 1.8 grams per tonne respectively. Zijin feels confident that with the fact that 95% of the property is still unexplored and we are in a good position here to explore and develop a resource of over a million ounces.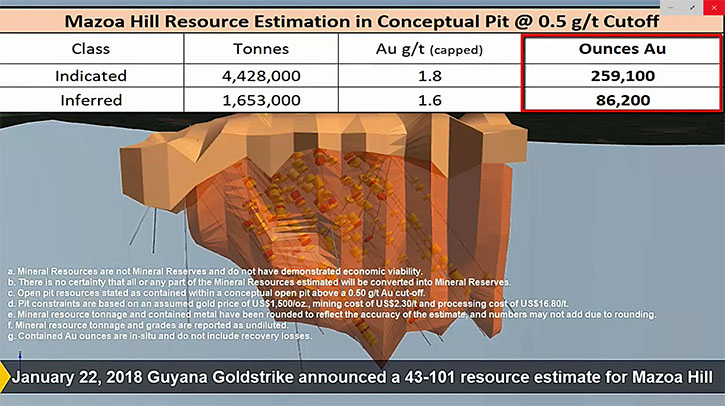 So really, that's our primary objective as management of the company is to continue to grow the resource ounces to definitely over a million ounces. You need to get 800 to a million ounces to start to incur some interest from mid-tiers or larger players or be in a position to go into a production decision that justifies the capital expenditure of let's say 75 to $100 million for a mill. So that was our focus was to explore. Once we closed on the dollars, the next step was to explore through trenching. We had to find the technical team.
Locke Goldsmith had defined nine areas of interest for further exploration for potential mineralization. We started to explore these through trenching. We've hit on a major area and zone called the Toucan Ridge area. We've been trenching this area since about June, and it continues to yield very good results. We've trenched now about seven or eight trenches on the Toucan Ridge area. All these trenches have hit the quartzite-metachert, which is the host rock, the hard rock mixed in with some softer saprolite.
We've been successful in confirming mineralization in all trenches, and we are continuing to trench, moving from west to east along the ridge. We're about 400 meters along the ridge, and some of these trenches running in parallel are going 250, 300 meters in length. This is exciting for us, obviously. This is becoming a zone of size, and as we move towards the end of the year into the new year, we'll be moving towards an initial drill program. Potentially, Toucan Ridge could be our number one priority or candidate to drill an eight to 12-hole program, maybe going from 125 to 150 meters in length to confirm this mineralization at depth.
Management is of the opinion that if we do confirm this mineralization at depth, we are in a very good position to then expand to a much larger drill program, let's say 50, 60, 70 holes and prove out a resource in the Toucan Ridge area that would get us over a million ounces in total on the property. So you can see that the next 6 to 18 months, or 12 months, are going to be a very busy time, a very exciting time, and we feel confident that we're just going to continue to produce the type of results that we've been producing since June almost weekly on the trenching and similar types of interval lengths and grades.
Dr. Allen Alper: That sounds exciting. It sounds like this coming year is going to be a year of discovery and announcement of results. So that will be very, very important for readers/investors. That's excellent!
Peter Berdusco: Absolutely. You know better than I that in terms of the health of a company or the focus, a lot of times a shareholder's perspective in terms of the stock performance is very important. If you can mix discovery and continue to drive good assay results, trenching, drilling results, and you have an area of size that should reflect well on a company's market capitalization and in stock performance.
Dr. Allen Alper: Yes, and it sounds like you have excellent opportunity to do that since you have excellent results starting out, and you have a new resource to explore. So that sounds like a great opportunity.
Peter Berdusco: Yes, thank you. We agree.
Dr. Allen Alper: Could you tell me a little bit about your background, your Team, and your Board?
Peter Berdusco: Well, I think you've hit on the key word, Team. The successes of junior exploration development companies is really predicated on an excellent Team. I feel that we have an excellent Team. We have an excellent Team that has prior experience, has been crafting their trade for quite some time, and also have really, really good feet on the ground. I can't stress that enough. When you're involved with projects that are outside of North America, it's really, really important to have a great country team that knows the country, knows how to do business in the country, knows who to talk to when things need to get done, and we have that Team.

I would start with Locke Goldsmith. He is really our center. Over 40, 50 years of exploration experience, almost exclusively in gold, Locke knows this properly from first walking it in the '90s with prior operators. So we were really comforted with the fact that he knows the property intimately. He's worked on a drill program in 2011-2012 on the property, and he's an excellent exploration geologist. So our ability to trench successfully is really a result of his expertise and his Team. It is a team effort on the ground there. That's for sure.

These trenches are quite sizable. So we're excited when we move into a drill program. Locke's going to do a great job on the drill locations. The country team is so key. We have an excellent country team that has been doing business in Guyana for over 15 years. We have a mining camp on the property, and a mining license. There ongoing care and maintenance in operations of a mining property.

We're very fortunate to have a team in Guyana that can facilitate our obligations on our mining property and the operations, but also be able to move business forward, with the various government entities that you need to deal with when you're in country. So that's very, very good. Going beyond that, our Board of Directors. We pride ourselves on having a great Board that's made up of two independent Directors, which is very key with a public company. So Rodney Stevens, a CFA, and Donald Birak, a geologist make up our two on the Board that are independent. That's very, very good.

Then myself, I've been in the markets now for maybe 15, 20 years, and I'm more on the finance side and the administration side and very well-versed in administering and managing public companies and financing. So I think all together, we make up an excellent team, with vast experience and the right pieces to drive the success of Guyana Gold Strike and the Marudi project.




Dr. Allen Alper: That sounds like you have some key members of your group that will help explore and move your project forward. Excellent experience and accomplishments! That's great! Could you tell us a bit about your share structure?
Peter Berdusco: We have over 52.4 shares issued. We have in total over 20 million warrants. Half of those warrants are held by Zijin Mining for the investment they made earlier this year. 95% of these warrants are in the $0.30 range or higher. Then outside of warrants, we have options. Our options are at $0.25 and $0.30. So we have probably just over five million options at $0.25 and $0.30. Our market cap is in the $21 million range. So I feel that we have the right structure with the right numbers that should be attractive to a retail investor, attractive to institutions that are looking for the right opportunities and some good upside, as we continue to progress and add value to the asset. With gold, in the ground these days getting about 10 to maybe $20 an ounce on the street.

Peter Berdusco: As the market develops and gold continues to go in the right direction, gets some wind under its sails and the price of gold continues to increase. The price that we'd get on the street per ounce in the ground will increase as well. So in a good gold market, we could be seeing $75 to $100 an ounce. So again, if we're in a position to grow our ounces to over a million, then our numbers start to look really, really attractive, and that's why we're doing this.
Hopefully, our shareholders see the value of being a medium to long-term shareholder. There's opportunity in the short term, but I think the real big win is to be a medium-to-long-term shareholder.
Dr. Allen Alper: Sounds excellent. What are the primary reasons our high-net-worth readers/investors should consider investing in Guyana Goldstrike, Peter?
Peter Berdusco: Yeah, I think gold is starting to get legs and starting to move in the right direction. The last four weeks, gold closed higher and in a positive direction. That's strong. It pushed through the 50-day moving average. I believe it also pushed through the 100-day moving average. That continued trend would be breaking through the 200-day moving average. This is key, breaking through the 200-day moving average is something for your investors to watch for.
Once that happens, it's an indication that we're in a major, strong, bull market with gold, and that will affect the price of gold, number one. Well, moving through the 200, obviously, is an increase in the price of gold. It will affect the mid-tiers, the large caps. It will affect the juniors and the exploration companies as well. There'll be a rising of the tide and it could be across the board.
From then, you look to the right types of companies and projects that have set themselves up for success, of which I hope your readers believe that Guyana Goldstrike is one of those companies that may yield a premium to you as a shareholder or on your investment. But that premium is dictated by: having a mining license, number one. An ability to get north of a million ounces. 95% of the property unexplored. So there's lots of blue sky. High grade, good grade, which generally can help your economics. One thing I haven't mentioned, the zones we have all have the potential of being open pitable, which helps with the economics. Right share structure, right market cap today, well priced. I think all of these factors are adding up to success for us as we head into 2019.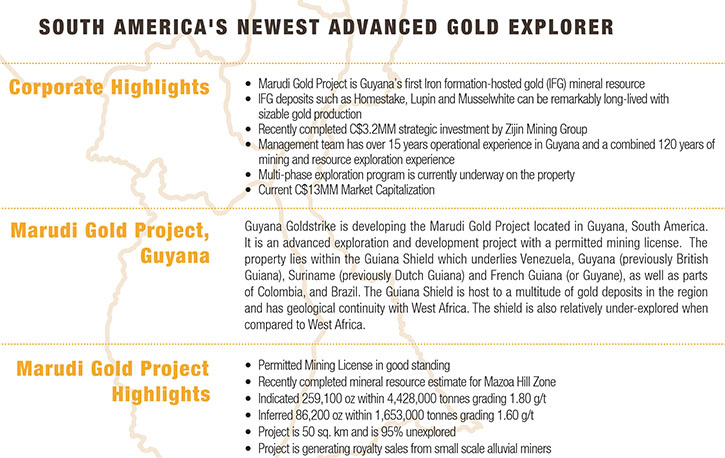 Dr. Allen Alper: That sounds excellent, very strong reasons to consider investing in your company. Great potential. High-grade, open pitable, experts. Excellent!
Peter Berdusco: Yeah, great, Dr. Alper. Thank you for that. I feel I'm doing my job if we just continue to deliver assay results and continue to step out and grow the Toucan Ridge zone and move to a successful drill program, and those are our key executables.
Dr. Allen Alper: That sounds excellent. Is there anything you'd like to add, Peter?
Peter Berdusco: Thank you for interviewing Guyana Goldstrike for Metals News. I'd like to invite your readers to come to our website, guyanagoldstrike.com. There is a lot of information there, the history of our news releases, a lot of images as well and photos from our property visit that we had about a month ago. There's going to be lots more news coming again as we continue to trench, move into drilling, trench in the new year.
We just recently completed an airborne geophysical survey of the entire property. It was never been done by the prior operators. It's exciting. That's another layer of data that will help define our drill targets and help us get into a position for a successful drill program.
Dr. Allen Alper: That sounds excellent, great potential. We'll publish your press releases as they come out so our readers/investors can follow your progress.
Peter Berdusco
President and Chief Executive Officer